Wi-Feeder
Wi-Feeder is a wireless access point for mobile phones, tablets and PC to allow customers to be able to connect to IRO/ROJ X3 feeders.
It is a useful tool for troubleshooting and maintenance, and a very easy way to access key information and data during the weaving process.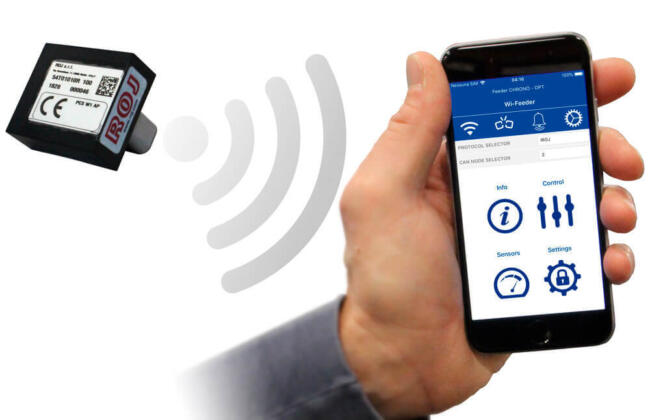 How it works
The Wi-Feeder can be connected either to a single feeder, or to one of the ports of the weft-feeder control box on the loom.
It activates a "point to point" Wi-Fi signal to which it is possible to connect with your portable device, simply by creating a new Wi-Fi connection by selecting "Wi-Feeder". Full operating instructions and access password are supplied with each device.
Advantages

User-friendly and intuitive App available (Android and iOS)
Monitoring of feeder data, for better understanding of the weaving process
Check and set the working parameters of any IRO/ROJ intelligent accessories in use
Accurate measurement of the yarn consumption of each colour during a weaving cycle, including any waste yarn
Alarms / warning messages for easy trouble-shooting and maintenance
Download and install latest up-to-date feeder SW releases
Questions?
Submit your data and you will be contacted by one of our experts